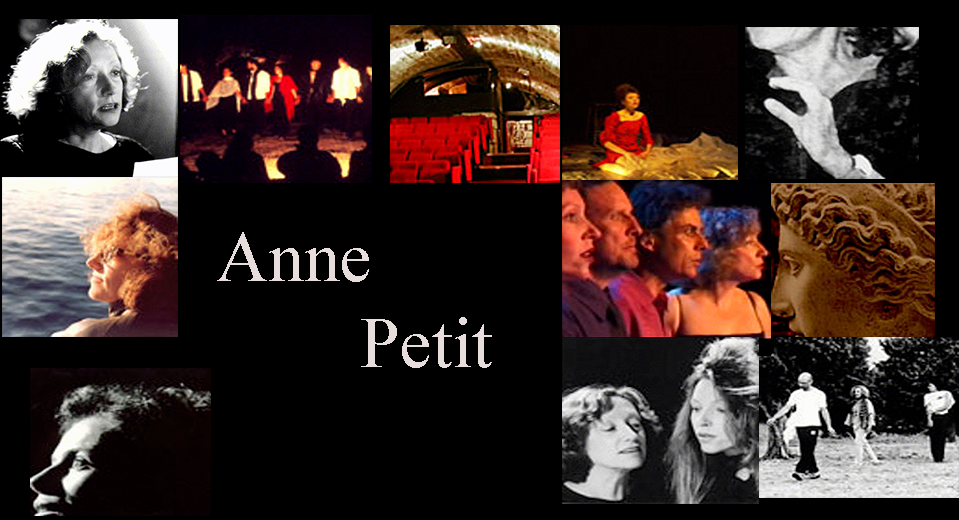 After short stays in several private schools, Anne Petit followed Tania Balachova's and Raymond Rouleau's courses. First theatre and television parts. She carried on her training at the Université Internationale du Théâtre – direction André-Louis Périnetti – by participating in several workshops where she was initiated to all the elements of show production. In the meantime, she performed in several productions in Paris: Théâtre de la Cité Internationale, Paris American Center.

She then started a university course at the Institut d'Etudes Théâtrales and became interested in collective Latin American theatre production (improvisation and writing), notably in Colombia – where she stayed – with the TEC (Teatro Experimental de Cali) run by Enrique Buenaventura, and with La Candelaría – run by Santiago García.

Henceforth, her acting career met with writing. In the seventies, actors would often participate in the creation of their character (dramaturgy and/or writing). It was her case when she worked with Ariane Mnouchkine, when Jacques Lasalle staged Boccaccio's Decameron, when she participated in "tréteaux-shows" at the Théâtre des Amandiers, directed by Pierre Debauche…

After having founded T.A.T. with Hichem Rostom, she kept playing parts and contributed to the writing and directing of T.A.T.'s productions: The Thunder Bird,The Fainted Woman – forming parts of the Visions triptych...

For several years she was entirely devoted to stage directing. She started acting again in the Récitals de Textes – dedicated to contemporary Portuguese poets – By the Tagus, Now we found each other again, in which she performed poems and short stories by Sophia de Mello Breyner, Maria Judite de Carvalho, David Mourão-Ferreira, Nuno Judice. She also performed in Tragedies, splinters, a Racine-Virgil Récital, and in the last Récitals de Textes she staged: Life and dream, Time Sideslips, adapted from texts by Maria Judite de Carvalho.